Call us on 0114 288 7284
Victoria Motors is are approved by the Government appointed Vehicle Operator Services Agency (VOSA) and all MoT tests are completed by MoT testers nominated by VOSA.
You can arrange to have an MoT test completed up to one month before the expiry of your MoT, with the new MoT expiring 12 months from the expiry date of the old MoT.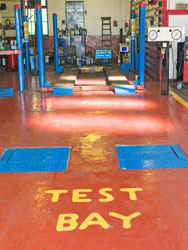 Once you have booked your vehicle in for its MoT, remember to take your Vehicle Registration Document – often referred to as the 'V5' document
Did you know the MOT takes no longer than an hour to complete and you are welcome to stay and watch the test being conducted.
The MoT test inspects these areas of the vehicle.
Vehicle Identification Number
Registration Plate
Emissions
Lights
Steering & Suspension
Wipers and washer bottle
Windscreen
Horn
Seat belts
Seats
Fuel System
Bodywork
Doors
Mirrors
Wheels & Tyres
Brakes
Tony is an expert on preparing and testing classic cars. If your Singer needs a service or your Healey needs help, give Tony a call.
Why not have your car serviced at the same time as your MoT?
---
Call us on 0114 288 7284
---
Copyright Victoria Motors, Stocksbridge 2019